House for Sale Bulgaria
HOLIDAY HOME FOR SALE IN BULGARIA £36,000
ALL THE WORK HAS BEEN DONE AND YOU CAN MOVE STRAIGHT IN
4 Floors,
3 floors have been updated to EU standard, rewired and plumbed, UPVC windows and doors.
Ground floor--Lounge, Kitchen and outside patio area covered with grapevines.
1st Floor--Bathroom/toilet/shower storage area and stairs to 2nd floor.
2nd floor--3 bedrooms, 2 with balconies, hallway with stairs to---
3rd floor a huge area, fantastic views ready to convert. Can be made into an extra internal area by using the stairway from the hall, or an external stairway fitted to outside balcony to become a self contained flat for letting.
There is an Old Bulgarian house in garden solidly built in timber and daub and wattle (Tudor) style.
The whole plot about 2,000 sq mtrs containing, cherries, grapes, walnuts, pears, hazelnuts, quince, figs, plums, jankee (small plums)
Mains water and electricity
In drought conditions the water presure can be lowered so there is also backup storage system which works well.
Sewage is to a soak-away (standard in villages) which is more than adequate for the house.
Grey water goes onto the garden to help with irrigation and helps the soakaway last longer.
Copy and paste the link below for more photos.
https://onedrive.live.com/redir?resid=571F9D47FF82A5D5!541&authkey=!AM7M4yjIfZQxWBw&ithint=folder%2cjpg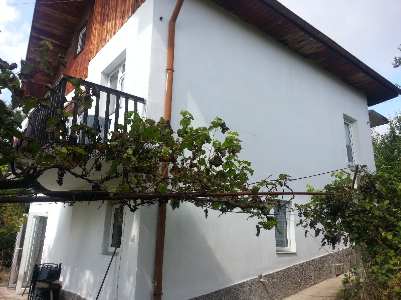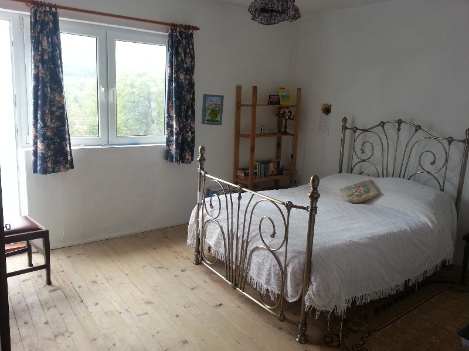 The cost of running a house in Bulgaria is very low---
Exchange rates have been from 2.2lev to the £ to 2.9 to the £. Currently 2.44 to the £.
Rates council 62 leva per year = 2.4 leva to the £ so about £26 per year.
House insurance about £35 per year
Electricity is slightly cheaper than in the UK
Water is very cheap
Wine very good quality £1 a bottle, beer 35p a pint.
Pork best cuts £3.30 a Kilo.
Veg in season eg.--Green Peppers 35p a kilo, red peppers 45p a kilo
We can help with buying and settling in.
Cost of buying is much cheaper than UK.
There is no vandalism or crime and the house has been left unoccupied many times out of season for several years now. Whatever you leave lying around outside is still there months later when you go back. The neighbours are very friendly and helpful.
The only reason we want to sell is because my daughter who lives in Bulgaria is about 20 kilometres away and my partner and I want to be closer to her so are buying a property near to her.
This village is 3 kilometres away from Kyustendil city and all the shops, swimming pools and restaurants.
The house is situated at the end of a small lane.
There is a small basic shop in the village.
Buying a house is much simpler now than when we first started and is a straight forward process.